Retreat Spaces
In partnership with the Sisters of Holy Names, Namasté offers three locations for rest and renewal: the House of Solitude on the east fork of the Lewis River in Southwest Washington; and Redwood Cottage and Sequoia Retreat Room in Oregon City.
Namasté was founded in 1985 by Sister Patricia Donovan McCrann to provide affordable opportunities for rest, renewal and spiritual exploration in a comfortable environment.
As we continue to navigate Covid 19 and the required and suggested mandates, we are opening reservations to the House of Solitude and Redwood Cottage on a limited basis.  For the health and safety of our guests, we are requiring guests to be fully vaccinated/boosted.  Reservations requests may be emailed to namasteportland14@gmail.com.  We appreciate your patience and continued support.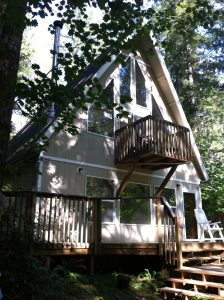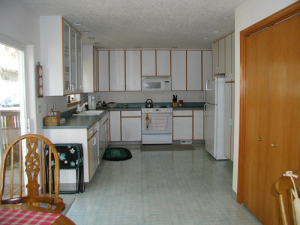 The House of Solitude welcomes up to four adult guests for overnight retreats. Located near Yacolt, Washington about an hour north of Portland, Oregon, this two-story, A-frame house has three bedrooms, two bathrooms, a fully equipped kitchen and spacious living room. Each bedroom has a private deck looking out on either natural woodlands or the Lewis River.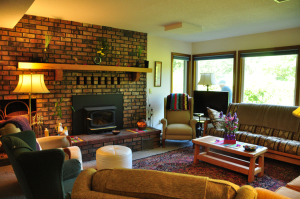 Sequoia Retreat Room is designed for day use and is located in Oregon City, Oregon on the lower level of a split-level residence. With a private entrance, this living/dining area is a comfortable setting for a group of up to ten people.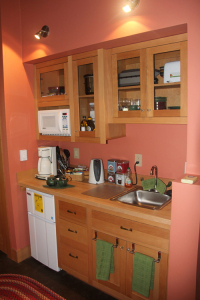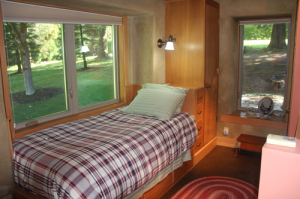 Redwood Cottage invites one person for a Day of Reflection or a Private Retreat of up to eight days. Built in 2012 following the guidelines of the Living Building Challenge, Redwood Cottage features straw bale insulation, adobe interior and redwood ceiling. This 584-square-foot Cottage is suited for someone desiring a peaceful retreat space.
Retreat Days, sometimes called Days of Recollection, are offered several times a year in the Portland area and are an invitation to step outside the ordinary rhythm of your life in order to prayerfully listen for your heart's desiring. Whether alone or in the company of others, this sacred time invites you to relax into the presence of the Holy and to come away from the experience renewed and refreshed. See our calendar for upcoming retreats.
Namasté and the Sisters of Holy Names make these offerings as a shared ministry.
For reservations or more information about the houses, spiritual direction or retreat days, email our Coordinator.
Rarely have I found a place where I can take a personal retreat and be so connected with the beauty of nature.The House of Solitude has truly been a gift providing a setting for personal healing, for exploring the inner life and for reconnecting with who I am created to be.
Rev. Charles E. Mantey